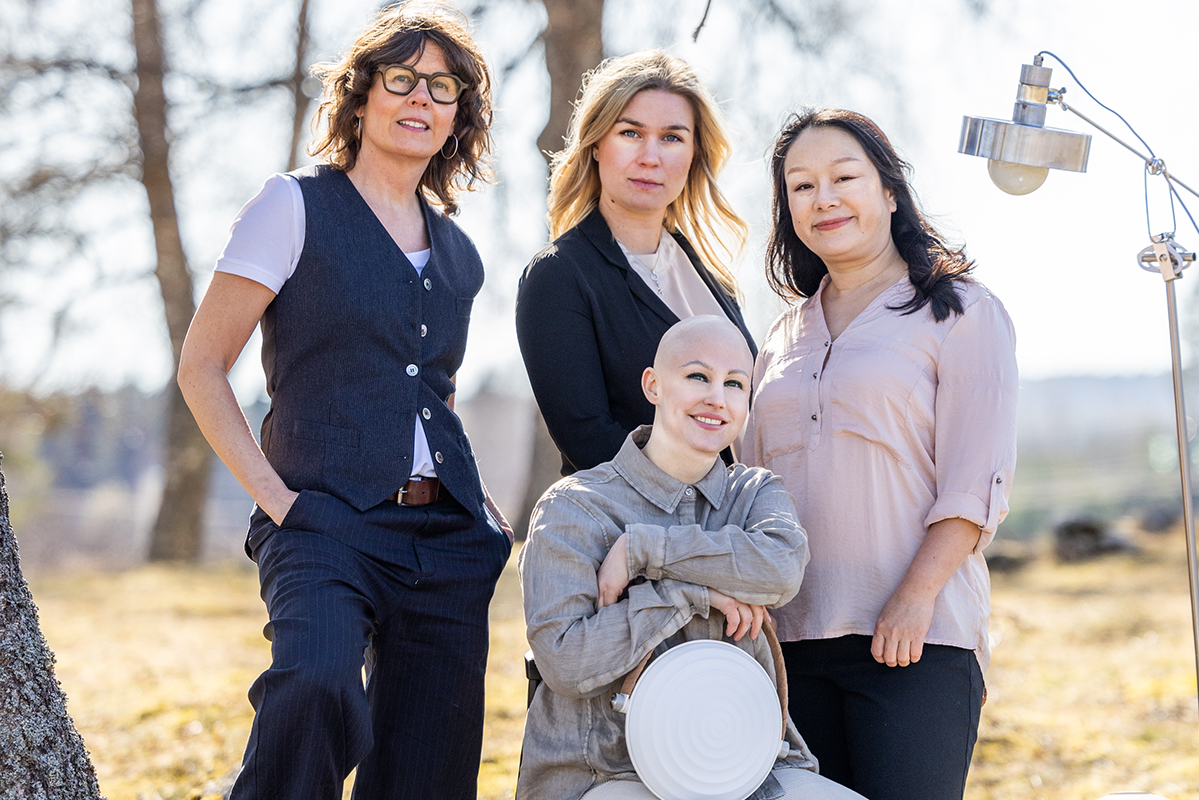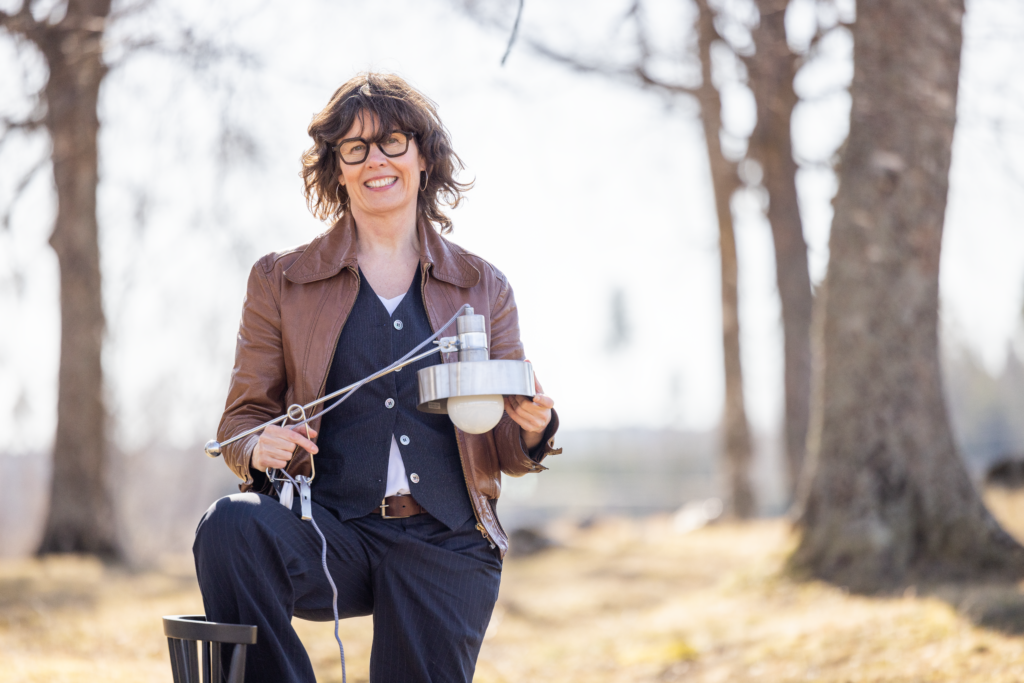 Helene has been the CEO at K-FAB since the autumn in 2016 and with an impressive CV, Helene has a lot of experience within production and purchasing within retail. With an education in the fashion industry, Helene has both free lanced as a product designer and worked as a design teacher, been head of purchasing at one of Sweden's largest clothes and interior design chains as well as been part of the management group for a producer of customised scaling equipment.
Helene was offered the position as CEO at K-FAB Scandinavia thanks to her relationship with the previous owner, Tommy Granström. When the company was purchased by Teqnion, the new owner insisted that Helene would take over the helm since Tommy had chosen to step down from the CEO post. Helene, who was a bit hesitant about the new mission at first, affirms that she gets all the support she needs from the management at the same time as she is given free reins to lead the company. Helene also emphasises that the owner challenges her in a way that constantly develops both Helene as an individual and the company.
Apart from the support of the owners, Helene points out that one of the best things with K-FAB Scandinavia is the close cooperation with the production in China.
– We are like one big family here at the office in Sundsvall and the production in Asia. We visit our office and production in Asia as often as we can, and we have worked together for so long that it almost feels like the factories are our own ones.
As the leader of K-FAB Scandinavia, Helene is meticulous about having a welcoming, challenging and rewarding atmosphere at the office. Flexibility and customer service is also very important for Helene:
– We always try to fulfil our customers' needs and wishes and strive for the best customer experience.
Helene's favourite

: ÅKE

"For me, ÅKE represents our design philosophy in a fantastic way. I love the fact that it has parts of raw metal that ages in a natural way with time. Just like many others of our lamps, you can use Åke in many different ways. The upper arm can be detached completely from the base and attached where you need some extra light. I like the way it sticks out in a very discreet way. It is really not like any other spotlight lamps on the market. No-frill design and functionality in a nutshell".
Mer
Mindre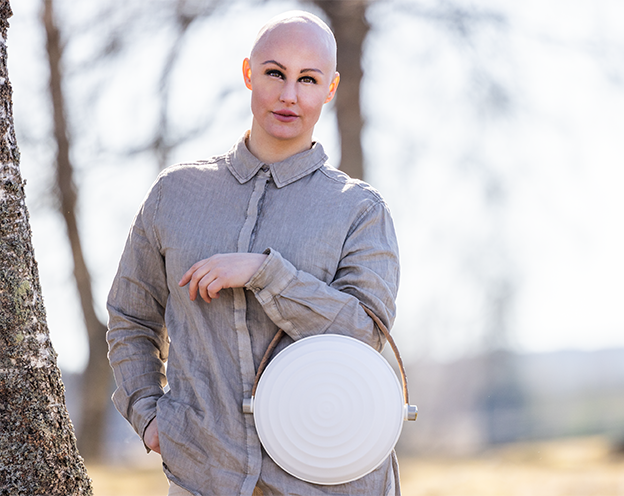 Kristina, Kikki, Hyrskylahti
When Kikki, who is a very creative person full of ideas goes home from work she has a lot of energy left over to be creative at home as well. This has not always been the case. Kikki has also been working in many different trades and has run, amongst other things, her own nail salon and has a been store manager. Kikki has never been unhappy about her previous positions but at K-FAB she has found a new source to happiness and inspiration.
– Going to work is like coming home to my second family. My job is a source of inspiration so when I come home, I have enough energy leftover to my own creative projects.
Kikki had only worked as an international seller for about six months when she designed her first lamp by herself.
– I missed a nice and portable lamp in our woodshed since we didn't have any electrical power there. That's when the idea of Kåre was born.
Since then, Kikki has designed most of the lamps in the K-FAB Design collection. In the beginning, Kikki drew the lamps with only pen and paper, but that was not very practical, so she decided to acquire the necessary skills to draw in CAD instead.
Kikki loves spending time in the nature and that is why you will find organic traces in all of her lamp designs, as well as minimalist lines, vintage and a dram of playfulness.
– It's so exciting to experiment with many different styles and see what happens if you combine one part that brings your mind to organic materials with one part that represents industry and functionality.
Kikki is a person with both feet in the ground, but she is, at the same time, notably trend-proof: "My belongings must be simple, beautiful, useful, and preferably a bit in contrast to the Swedish average.
Kikki's favourite: KÅRE
"Kåre is my absolute favourite and the lamp I am most proud of with its many functions and daring design. Functionality does not have to be ugly and boring! And of course, since it is the first lamp I designed by myself –  with merely an idea and a pencil to start with – it is closer to my heart than any of the other lamps".
Mer
Mindre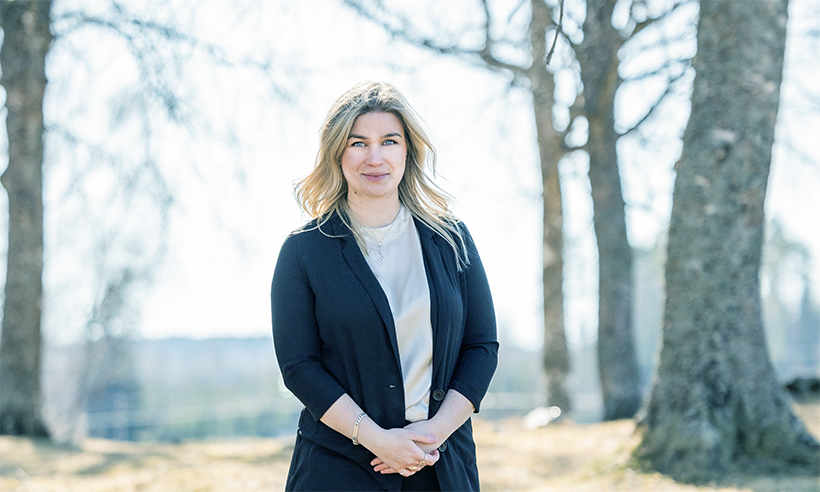 Malin, as well as Kikki, has a background as a store manager within retail but she is also a parent, a pet owner and a diligent visitor of the Swedish mountains. As soon as Malin gets some time leftover, she will be found on a snow scooter somewhere close to the Norwegian border.
Malin's main responsibilities are international sales and customer care.
When Malin was offered the opportunity to join the K-FAB team, she instantly said yes. Malin thinks it is so much fun to be able to truly fulfil her customers' needs, thanks to the close relationship with the factories.
– It may sound a bit repetitive and cliché, but we really are like one big family. I kind of feel like home both at the office and in my house. It is also very lush to have such a close collaboration with the production. It makes this mission a bit extra rewarding and developing.
Malin's favourite

:
RÅG

"I have fallen for the lamp Råg a bit more than the others. It is different and tough but also beautiful in a subtle way. Like a grandiose crystal chandelier but at the same time not. I like the way you can choose to only turn on the LED light around the ring to create a cosy atmosphere but also switch on the light bulbs to create full scale brightness".
Mer
Mindre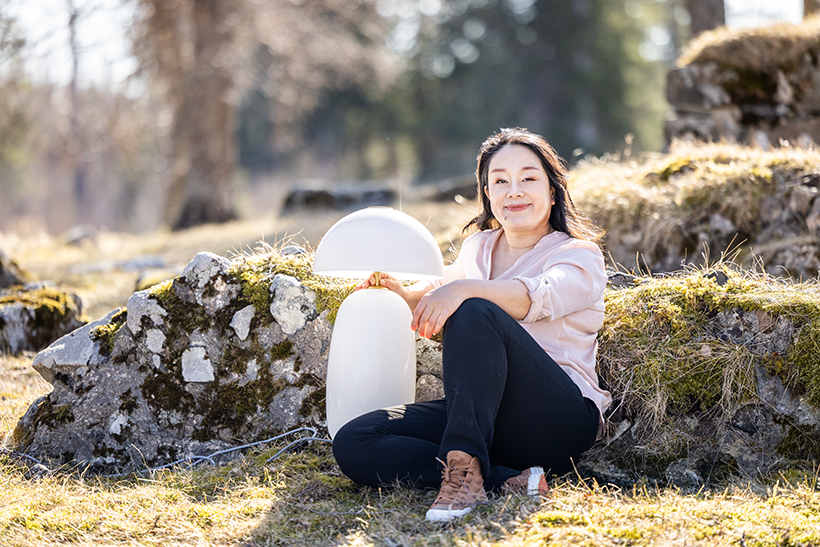 Minjuan is a globe-trotter who has landed in Sundsvall. She was born in China and achieved a bachelor's degree in English at a Chinese university. Minjuan met her Swedish husband in her home country and the family has since then lived in many places in both China, Japan, and Sweden.
When the family settled in Sweden in 2008, Minjuan required a purchasing agent degree and has then then worked with lights in one way or another. Minjuan runs the daily economy of K-FAB Scandinavia, deals with various administrative tasks, has direct contact with the factories in China, has the main responsibility for the fairs of K-FAB Scandinavia in Asia and participates in the design production. Therefore, Minjuan is juggling a great deal of things, but she loves her job, and she loves living in Sweden.
To Minjuan, Scandinavia and the northern parts of Sweden are tremendously exotic.
– Everything is different here; The culture, the nature and everyday life. I really like Sweden, but I must admit that I could do without the long, cold, and dark winters.
Minjuan has had a central part in creating the collection of Granström. She thinks that the Granström lamps are stunning and represents Swedish beauty and modern Scandinavian design in full.
Minjuan's favourite

:
Tusensköna

"I love the lamp Tusensköna in the Granström collection. When I imagine the design of the lamp I thought of harmony; no sharp edges – just soft lines. The light of the lamp spreads in a clear and beautiful way without taking over. Therefore, Tusensköna creates a relaxing and comforting calmness when you come home after an intense day at work".
Mer
Mindre